Continue your studies at University
Canada West (UCW)
CCTB offers a pathway program with University Canada West (UCW) to help students pursue a Bachelor's Degree or MBA after graduating from one of our three participating programs. 
Program Description
The Pathway Program from Canadian College of Technology and Business (CCTB) to University Canada West (UCW) is a specialized educational initiative designed to facilitate a seamless transition for students seeking to advance their careers. The main benefit of this program is the shorter duration of university studies after completing their college studies.
Who is this pathway for?
Pathway into Bachelor of Commerce (BCom) Degree at UCW:
• For graduates from the Diploma in Business Administration with Co-op Program at CCTB
• For graduates from the Diploma in Business Management with Co-op Program at CCTB
•For graduates from the Diploma in Digital Marketing with Co-op Program at CCTB

Pathway into Bachelor of Arts in Business Communication (BABC) Degree at UCW:
• For graduates from the Diploma in Business Administration with Co-op Program at CCTB

Pathway into MBA foundation program at UCW:
• For graduates from the Diploma in Business Administration with Co-op Program at CCTB
Campus:
Vancouver
International & Domestic: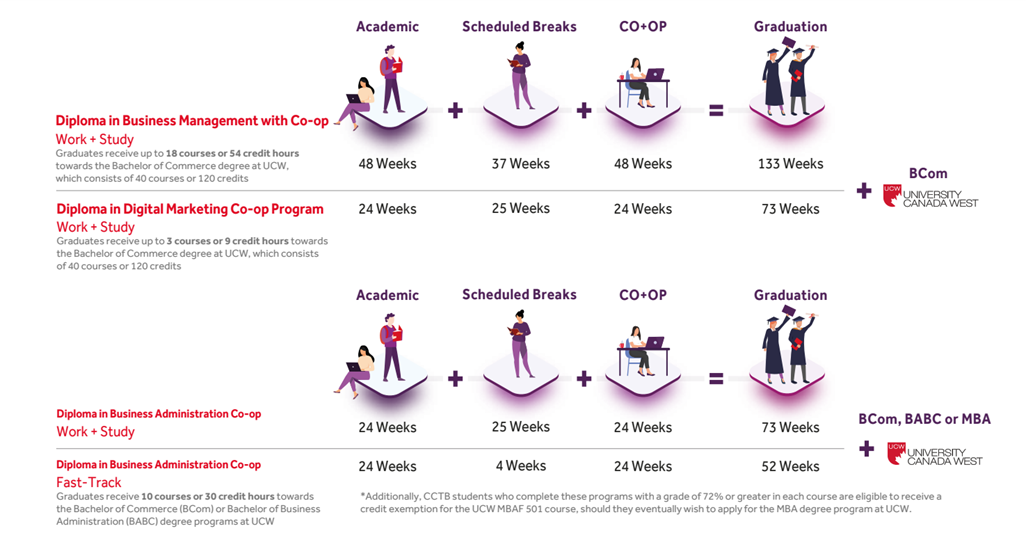 Intakes:
January, April, July and October